Community Projects
Art in Bloom 2022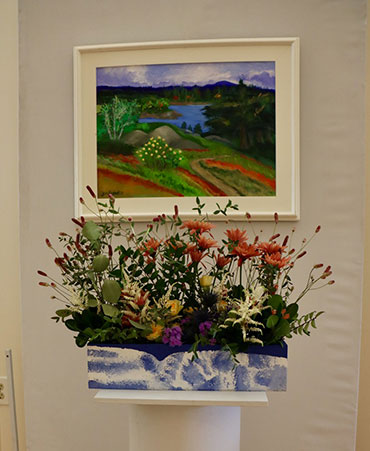 From very early on, outreach to members of the community and to local schools has been a trademark of the Brooklin Garden Club and it continues to be our focus.
For years, our Outreach Committee maintained an extremely valuable program: the Garden Therapy program at the Penobscot Nursing Home and the Island Nursing Home on Deer Isle. Members spent time with the residents, made flower arrangements and created small garden projects. The residents and our members looked forward to seeing each other every month, and our members truly enjoyed the program.
The Penobscot Nursing Home closed in 2017 and the Island Nursing Home was forced to shut its doors during the pandemic. After 18 months, when the group arrived at the Island Nursing Home on September 21, 2021, and were setting up the carts with flowers and cans, we were told that the nursing home was in lockdown and that the session had been cancelled. We spontaneously decided to set up shop in the parking lot. It was a sunny day, which allowed us to create many beautiful arrangements. The arrangements were sent to the residents one last time. We regretted the permanent closing of the Island Nursing Home that October.
Club members decided to start a new project called Flowers for Neighbors. A generous grant from the family of a deceased club member from Sargentville provided the seed money for this project. Four times from spring through summer club members gather to create about 100 arrangements of flowers from their gardens. In colder months plants are purchased. Volunteer drivers from Healthy Peninsula deliver them, along with soup from the Simmering Pot, to homebound people on the Blue Hill Peninsula and Deer Isle.
Arrangements are also delivered to the staff of the Sedgwick, Brooklin and Brooksville schools in May and to other locations as flowers allow, such as Hospice of Hancock County, the staff and patients of the Blue Hill Hospital, and the staff of the Sussman Medical Center.
In early December each year, holiday wreaths are delivered to the town offices of Brooklin, Sedgwick and Brooksville to hang on their entrance doors. Additionally, in 2022, a wreath was placed at the Welcome Center on Little Deer Isle.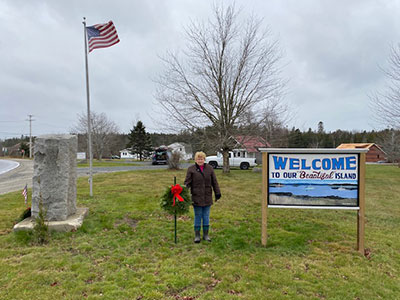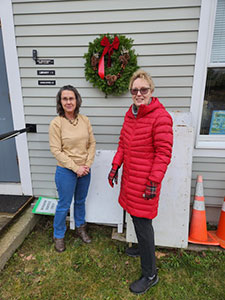 Over the past twenty years the Brooklin Garden Club has hosted several Art in Bloom events. In addition to showcasing the work of local artists and the talents of the members of the BGC at flower arranging; it is a fundraiser for the club. Art In Bloom event photos are shown throughout the website.